November 25, 2015
WIAW: Chocolate,Carbs&Cookies
I think it's really important to share a day of eat's which were not controlled by hitting certain macros, carefully balanced or perfectly 'clean'..
Even though it was my day off, I still made sure I got up early and started the day with a swim/aqua jogging and kettlebell workout.
I walked to the swimming pool and by the time I got home I was desperate to dive into these protein pancakes with raspberries and PB2
I then nipped into my office – Yes, crazy on one day of annual leave but I had a small job to do. I then went and had my teeth polished (I feel so much brighter and whiter now!) and did a little shopping.
I got home and pottered into the kitchen with a craving for scrambled egg on toast, I added spinach, sweetcorn and ham.
Then I soon found myself chilling on the sofa with a vitafibre cookie topped with nut butter or two…Please excuse the terrible photo, they sure aren't photogenic!
After a afternoon of food prep (including meals for the freezer),working on my Facebook page and maybe a little more shopping, it was dinner time. I tucked into tuna, with onion and salad cream grated carrot, pea's, feta and potatoes.
I wanted to satisfy my sweet tooth, this kind bar with Almond and Coconut was incredible – I could eat these every.single.day.
Late evening munches kicked in, these Monty Bojangles truffles are wonderful; rich dark chocolate truffle with butterscotch and sea salt.
What do you find yourself craving on more relaxed day's? I strongly feel that chocolate is a part of a balanced diet and if you don't? Then that's more truffles for me…
Big Thanks to Arman for hosting this week's 'WIAW' and sharing a giant cookie recipe!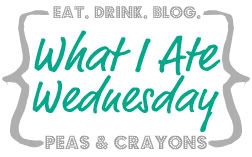 Katie
x